Thinking about purchasing a short term rental in the Town of Bluffton South Carolina, or converting a property from long-term to short-term? Short term is defined as rented in its entirety to Transient Guests for less than 30 consecutive days. Here is a guide to get you started.
Please note most of this information is right from the Town of Bluffton's website here Short-Term Rentals | Bluffton, SC and is subject to change without notice.
Make sure your property is zoned in the Town of Bluffton to allow short term rentals.

A maximum of one (1) Short-term Rental Unit is permitted per lot in the following zoning districts: Agricultural (AG), Rural Mixed-Use (RMU), Residential General (RG), Neighborhood Core (NC), General Mixed-Use (GM), Riverfront Edge Historic District (RV-HD), Neighborhood Conservation Historic District (NCV-HD), Neighborhood General Historic District (NG-HD), and Neighborhood Center Historic District (NCE-HD) as of January 1, 2021. This limitation shall not apply to lots within the Neighborhood Core-Historic District. Compliance with the Town of Bluffton Unified Development Ordinance and Chapter 6, Article V of the Town of Bluffton Code of Ordinances is required.
You can use this map to see if the property is within the Town of Bluffton and the Zoning: https://www.townofbluffton.us/map/index.html

It must have adequate parking 1 space per bedroom
Make sure to let your homeowner's insurance company know you will be renting – it's a different type of insurance!
Operable fire extinguisher
Address Numbers Posted
Visible From the Street
Each Bedroom – Operable Smoke Detector
Each Bedroom – Operable window that meets requirement for emergency egress
Main area on each floor – operable smoke detector and carbon monoxide detector
A "Guest Information" document that includes the following:

The name, address, telephone number(s) and email address of the of the Short-term Rental Unit Agent
The business license number assigned by the Town (see below for licensing)
The maximum occupancy of the Short-term Rental Unit
The location of required parking spaces
Emergency numbers for local police and fire
The schedule of solid waste and recycling pick-up
The location of the nearest hospital
A statement that any sound that could be reasonably expected to create a nuisance or cause disturbance to the peace and enjoyment of neighboring properties will not be permitted and that "quiet hours" are between 10:00 p.m. and 7:00 a.m. The Town of Bluffton will enforce its Noise Control Ordinance

Provide notice to adjacent property owners
Display your short term rental permit after receiving it see below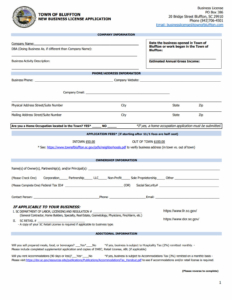 The Town of Bluffton Business License is first. $50 application fee and it renews each year April 30 at $50 for first $2,000 in gross revenue then $1.30 per $1000. You can find the application here: https://www.townofbluffton.sc.gov/DocumentCenter/View/518/New-Business-License-Application-PDF and then email the completed applicaton to [email protected] or stop by the office at 20 Bridge Street Bluffton, SC 29910.
After you receive your Business License number you can then apply for the Short Term Rental Permit with the Town of Bluffton. Click Here to Apply

Must be obtained prior to advertising, leasing or operating any dwelling unit as a Short-term Rental Unit
Must Meet Zoning Requirements
Provie Proof of ownership – upload mortgage statement, tax bill, title, recorded deed
Must provide a letter from HOA stating short term rentals are allowed
3rd Party Safety Inspection:

Upload pictures of the smoke detectors in each bedroom
The windows to show egress in each bedroom
The main floor smoke/carbon monoxide detectors
The fire extinguisher
The address number posted visible from street

Once you have your Short Term Rental Permit back (takes about 1-2 weeks for approval) you must display inside the unit and you are ready to list on AIRBNB, VRBO etc…
You must be available twenty-four (24) hours a day, seven (7) days a week at the phone number(s) listed on your application
Be willing and able to come to the Short-term Rental Unit property within one (1) hour following notification to address issues related to the property
Be authorized to receive service of any legal notice on behalf of the owner for violations of the Town of Bluffton General Code of Ordinances and/or the Unified Development Ordinance
Be able to produce copies of the executed rental or lease agreement for current occupants as needed
Monitor the Short-term Rental Unit at least once weekly to ensure compliance with applicable ordinances.
File monthly and pay for the 3% accommodations tax (gross proceeds of more that $1,666 per month) – online option here: https://sc.accessgov.com/bluffton/Forms/Page/bluffton/atax/0 or print and mail here: https://www.townofbluffton.sc.gov/DocumentCenter/View/528/Accommodations-Tax-Payment-Form-PDF

VRBO typically collects and remits payments for accommodations taxes automatically on your behalf, AIRBNB does not however and you must manually make those payments with the Town of Bluffton
Payments are due on or before the 20th day following the end of the filing period to avoid late penalties of 5% of the unpaid amount for each month or portion thereof until paid in full.

If you manage the unit yourself and do not use websites such as AIRBNB and VRBO be sure your are collecting the correct taxes to remit payments. In addition to the 3% accommodations tax, South Carolina also collects a 2% accommodations tax on short term rentals.
All Short-term Rental Unit permit holders must apply annually for renewal of the Short-term Rental Unit permit. $325 renewal. Expires 12/31 each year.
Remember to renew your business license each year.
You MUST file a Rental Residential Property Tax Form with Beaufort County to report the value of all appliances and furnishings in the rental unit. This must be filed by April 30th each year. Download the Form Here: https://www.beaufortcountysc.gov/auditor/documents/Personal-Property-6-PERCENT-or-Rental-Return-2019.pdf
A Permit is nontransferable; a change of ownership of the Short-term Rental Unit shall require the new owner to obtain a new Short-term Rental Unit permit.
A change in the Short-term Rental agent, an increase in the number of bedrooms or decrease in the number of required parking spaces shall not occur without approval of a new permit by the Town of Bluffton.
This is up to date as of February 17, 2023 and is subject to change.